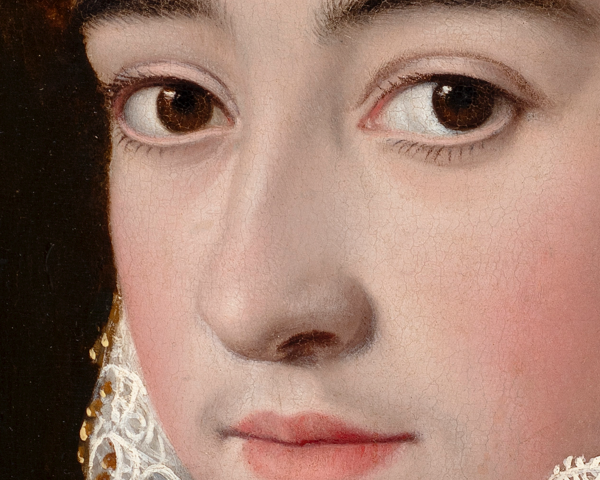 Colnaghi was delighted to present at TEFAF Maastricht (March 9th — 19th) a superb selection of Ancient, Mannerist and Baroque artworks by Anthony Van Dyck, Frans Francken the Younger, Pier Francesco Mola, Bernardo Strozzi, and Luis de Morales, among others.

Colnaghi at TEFAF Maastricht 2023 - Bartolome Esteban Murillo
The highlight of our stand this year was Bartolomé Esteban Murillo's famous La Virgen de la faja (The Virgin of the Sash), one of the artist's last masterpieces of this calibre to remain in private hands. Once forming part of the Royal Collection of King Louis Philippe d'Orléans, La Virgen de la faja was exhibited in the Spanish Gallery in the Louvre from 1838 to 1848, alongside works by Velázquez and Zurbáran. It now returns to Colnaghi 170 years after we first purchased it at Christie's London in 1853.

Our other highlights included two magnificent works by Spanish 16th- and 17th-century masters Alonso Sánchez Coello and Jusepe de Ribera. Coello's exquisitely preserved portrait of a Young Noblewoman in courtly dress depicts a beautiful woman in the full bloom of youth, innocence and love. By contrast, Ribera's St Jerome is a masterful study of old age and a reflection on man's eternal confrontation with death. Resonating deeply with echoes of Caravaggio, Ribera's St Jerome is a reminder of the beauty and dignity of old age.

Visitors were also able to admire a fascinating painting by Florentine Mannerist painter Maso da San Friano, depicting a noble infant by the name of Sinibaldo Gaddi.

It was a pleasure to welcome you to stand 304.