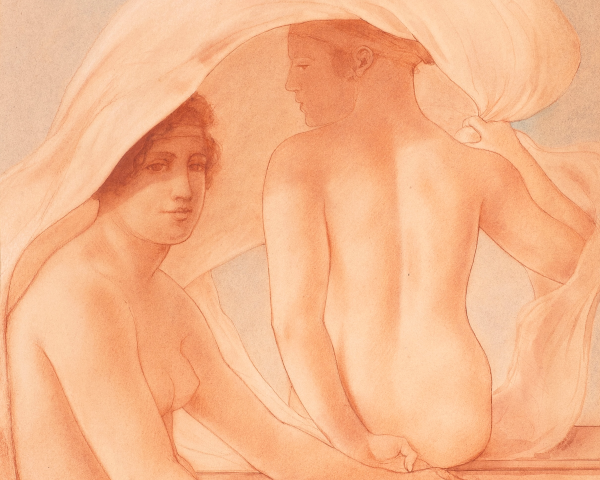 Colnaghi returned to Master Drawings New York for the first time in three years, with an exhibition of Winter Highlights presented by Colnaghi Elliott Master Drawings. Following a successful inaugural show in London in Summer 2022, this second presentation built upon the gallery's tradition of handling the most significant works on paper, combined with Elliott Fine Art's interest in bringing to the fore important works by under-represented figures. Highlights included a very fine drawing of Daedalus and Icarus by Orazio Samacchini and a striking study by Victor Prouvé. Impressive works on paper were also presented by Ubaldo Gandolfi, Armand Rassenfosse, and exceptional female artists including Antoinette Cécile Hortense Haudenbourt-Lescot and Virginie Demont-Breton.
Founded in 1760, Colnaghi's reputation in Old Master drawings has been long established, selling works by Italian Masters including Leonardo, Guercino, Procaccini, Tiepolo and French masters such as Watteau, Boucher, Fragonard and Ingres, among others. Celebrated during the James Byam Shaw era in the 20th century as a gallery straddling the worlds of scholarship, connoisseurship and commerce, this great tradition continues through this presentation, with an added focus on high quality works by under-recognised artists.
Will Elliott said: "I am delighted to be presenting such art-historically significant Old Master Drawings at MDNY 2023, building upon the momentum of a successful inaugural Colnaghi Elliott Master Drawings presentation in London during the summer of 2022. I look forward to sharing works by artists our clients in New York may not be so familiar with, alongside those by more well-known names. With this first presentation in the United States, we continue to fuel the great Old Master Drawings tradition the gallery has been so highly regarded for, but with the unique angle I am particularly drawn to, of highlighting overlooked artists."
Winter Highlights were on view from 20-28 January 2023 at Colnaghi, 23 E 67th St 4th Floor, New York, NY 10065.
View the presentation here.