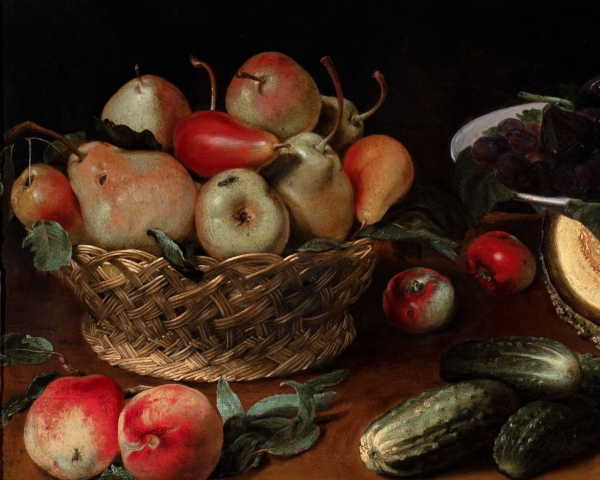 COLNAGHI London presented an exhibition devoted to female still life, the highlight of which is a spatially complex painting by the mannerist artist, Fede Galizia. An important rediscovery by Colnaghi, the work contributes to the reconstruction of Galizia's corpus in her enigmatic final years. Forbidden Fruit: Female Still Life included other rare works by Giovanna Garzoni, painter to the Medicis and one of the first women to practice the art of still life, as well as the only known painting by Caterina Angela Pierozzi, protégée of Grand Duchess Vittoria della Rovere. The exhibition also featured the last painting by the hand of acclaimed Dutch botanical artist, Rachel Ruysch.
Opened at Colnaghi London from April 27 through June 24, 2022, Forbidden Fruit built upon Colnaghi's mission to spearhead new trends in art collecting, bringing the finest works in often overlooked categories to a new audience. This presentation included work from the Renaissance to Baroque periods by: Giovanna Garzoni, Fede Galizia, Clara Peeters, Caterina Angela Pierozzi, Elisabetta Marchioni, Rachel Ruysch and others. The exhibition also spotlighted the theme of diplomatic exchanges between nations, through the lens of female masters.
Said COLNAGHI Global Director Candida Lodovica de Angelis Corvi: "Connecting cultures has never been more important in the art and museum sector than it is today. Our presentation of masterworks by women from a variety of different nations - Clara Peeters, Fede Galizia, Rachel Ruysch and Giovanna Garzoni - highlights the overlooked role female artists played in diplomatic relations throughout history. Giovanna Garzoni, for example, was a globe-trotter of her time who visited and united different cultures through her work in different countries and cities which were often at war with one another - Naples, Florence, Rome, Turin - all different 'states'. At a time when difference between nations can seem to grow each year, exhibitions which develop and draw our attention to the role art and women play in uniting cultures feels timely, apt and necessary."
Colnaghi CEO Jorge Coll added: "Forbidden Fruit offers a unique opportunity for our clients and visitors to enjoy never-before-seen masterworks by female artists who pioneered the still life genre, were successful during their lifetimes, and who pushed the art form forwards. Colnaghi's programme of exhibitions consistently aim to uphold our historic firm's commitment to connoisseurship and building collections, and this presentation aligns with this mission."

Visit the online presentation.